In 1603, on his first voyage to North America, Samuel de Champlain sailed down the St. Lawrence and anchored his ship at the mouth of the Saguenay River, northeast of modern-day Quebec City. Champlain was eager to explore the upper reaches of the Saguenay to establish valuable trade relations. He also hoped to discover a route to the fabled Northwest Passage—but it was not to be. This was Innu territory. Without the consent of the Innu, Champlain could not pass up the Saguenay, and Innu consent was not given.
Over four centuries later, Champlain's encounter with the Innu echoes across the Canadian landscape.
The federal government has enlisted former Supreme Court Justice Frank Iacobucci to salvage its failed consultations with Indigenous Peoples over the Trans Mountain pipeline. While Mr. Iacobucci will no doubt provide excellent advice, the early signs from the federal government are not encouraging. According to Fisheries and Oceans Minister Jonathan Wilkinson, the federal government's primary obligation is not to address Indigenous concerns—it's to satisfy the courts.
All Canadians would be well served if Minister Wilkinson and his cabinet colleagues considered the significance of Champlain's 1603 encounter with the Innu.
During the early years of the European encounter with the Indigenous Peoples of North America, the French prided themselves on their comparatively positive relations with Indigenous Peoples, many of whom became their allies against the British. In large part this relationship was grounded on recognition of the fact that the French were visitors in Indigenous territories. If they wanted to maintain their position, they had to respect Indigenous authority.
Following Champlain's first voyage, relationships with Indigenous Peoples based on recognition, respect and consent were repeated as Europeans moved across the continent from east, west, north and south. It was only after the devastating effects of European diseases and Canada's genocidal practices had taken their cruel toll on Indigenous people that colonizers, greedy to exploit Indigenous lands, were able to systematically disregard the requirement for Indigenous consent.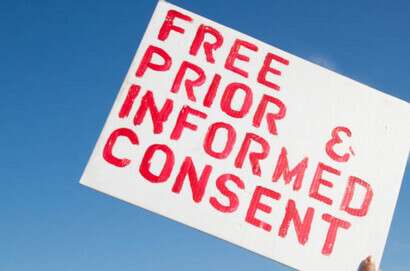 (Photo Credit: Ben Powless)
The principle of consent is also well established in international and Canadian law. The United Nations Declaration on the Rights of Indigenous Peoples has enshrined consent as the international standard. The federal government in its 10 principles respecting its relationship with Indigenous Peoples has endorsed consent-based processes (see principle #6).
In Canada, recognition of the requirement for Indigenous consent dates at least as far back as the Royal Proclamation of 1763. More recently, the Supreme Court of Canada in the Delgamuukw, Tsilhqot'in and Ktunaxa decisions has discussed when Indigenous consent is either required or, at the very least, is the preferred course of action.
Unfortunately, consent has been confused with 'veto', the favourite word of all who seek to marginalize and undermine Indigenous Peoples. In the context of Aboriginal law in Canada, veto refers to sitting on the sidelines and jumping up at the end of the process to arbitrarily play a trump card to stop a proposed project. Consent is something different.
Consent is grounded on two important words: recognition and respect. Recognition and respect for the historical and legal fact that despite having undergone centuries of colonization and genocide, Indigenous Peoples have never relinquished their right and responsibility to make decisions about their lands.
Anyone proposing to enter onto or do something with Indigenous Peoples' lands and waters should approach them with an open heart and an open mind and seek their consent. Doing so will set the foundation for the meaningful dialogue and process of give-and-take the federal government failed to adopt during its first attempt to consult on the Trans Mountain pipeline.
Whether or not the Trans Mountain pipeline is ever built is uncertain. What is certain is that until federal and provincial governments abandon the low road of minimalist consultation and stop trying to silence Indigenous people by shouting 'no veto', they will continue to sow discord, opposition and distrust. Indigenous Peoples are offering them a better way forward—they should take it.
---
Bruce McIvor, lawyer and historian, is principal of First Peoples Law Corporation. He is also an Adjunct Professor at the University of British Columbia's Allard School of Law where he teaches the constitutional law of Aboriginal and Treaty rights. Bruce is a proud Métis from the Red River in Manitoba. He holds a Ph.D. in Aboriginal and environmental history and is a Fulbright Scholar. A member of the bar in British Columbia and Ontario, Bruce is recognized nationally and internationally as a leading practitioner of Aboriginal law in Canada.
Follow Bruce on LinkedIn and Twitter
For more First Peoples Law analysis, visit our blog
Sign up for our Aboriginal Law Report