What is the Basis for Métis Rights Protected Under the Constitution?
Métis rights are based on Métis customs, practices and traditions that emerged between the time of European contact and the date colonizers began to control the land.
For many years there was uncertainty as to the basis for Métis constitutionally-protected rights. If Aboriginal rights are derived from Indigenous Peoples' occupation of their lands before colonizers arrived, how could Métis have rights when they didn't exist before the arrival of Europeans?
In the 2003 Powley decision, the Supreme Court created a test for proving Métis rights which allowed for the emergence of Métis rights post-contact. The Court held that Métis rights protected under the constitution are based on Métis customs, practices and traditions that developed after the Métis emerged as a distinct people and prior to the imposition of European laws.
The date of the imposition of the colonizer's laws and the Crown's effective control of the land varies across the country. It is specific to the Métis community claiming an Aboriginal right. For example, in Powley the Court held that the date of effective control for the Sault Ste. Marie Métis community was 1850. Farther west, the courts have held that the date of effective control in south-western Manitoba would have been 1880.
Many people with Indigenous ancestors don't understand that to have Métis rights under the constitution, they have to trace their ancestry to a specific, local Métis community that existed when the Crown began to exercise 'effective control' in that part of Canada.
Have a question about Indigenous rights? Submit your questions here and Bruce will answer as many as possible in the monthly newsletter.
Sign up for our mailing list here to get future installments of "Indigenous Rights in One Minute" straight to your inbox.
Did you miss last month's post? Check out Bruce's answers to other questions here.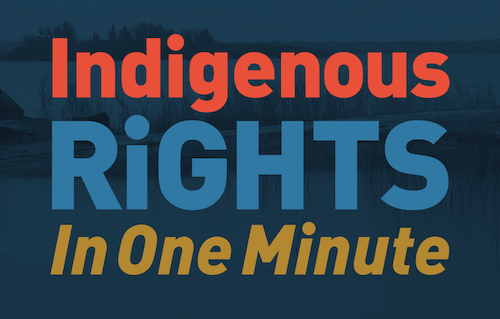 ---
Bruce McIvor, lawyer and historian, is partner at First Peoples Law LLP. He is also an Adjunct Professor at the University of British Columbia's Allard School of Law where he teaches the constitutional law of Aboriginal and Treaty rights. A member of the bar in British Columbia and Ontario, Bruce is recognized nationally and internationally as a leading practitioner of Aboriginal law in Canada. Bruce's ancestors took Métis scrip at Red River in Manitoba. He holds a law degree, a Ph.D. in Aboriginal and environmental history, is a Fulbright Scholar and author of Standoff: Why Reconciliation Fails Indigenous People and How to Fix It. He is a member of the Manitoba Métis Federation.
Follow Bruce on LinkedIn and Twitter
First Peoples Law is a law firm dedicated to defending and advancing the rights of Indigenous Peoples in Canada. We work closely with First Nations to defend their Aboriginal title, rights and Treaty rights, uphold their Indigenous laws and governance and ensure economic prosperity for their members.
Sign up for our First Peoples Law Report for your latest news on Indigenous rights