We are excited to announce the release of our 2022 edition of Annotated Aboriginal Law, now available here.
The book provides Indigenous Peoples and the legal community with a comprehensive overview of cases, legislation and other important developments in the field of Aboriginal law. We hope it serves as a useful resource in understanding, defending and advancing Indigenous rights.
We are grateful for the Indigenous communities across the country whose longstanding efforts to protect their lands, uphold their laws and defend their rights underlie the cases in the book. We also remain deeply appreciative of the work of Professor Shin Imai, whose enduring contributions form the foundation of the text.
Changes to Annotated Aboriginal Law

As part of our commitment to public legal education, we seek to ensure Annotated Aboriginal Law is relevant and accessible to a wide variety of audiences. To this end, we have implemented a number of changes and updates this year:
1. First Peoples Law Commentary

This new section provides a selection of essays on key issues and cases in Indigenous rights and the law in 2020-2021 based on our experience working with Indigenous clients across the country. Highlights include cross-border rights, Aboriginal title and private property, Treaty rights and cumulative impacts, the rule of law and more.
2. Indigenous Law Section

First introduced in our 2021 edition, this section summarizes recent case law involving the intersection of Indigenous law and Canadian courts. Topics include election codes, customary law, the Charter and more.
3. Streamlining Cases

Since its inception, Annotated Aboriginal Law has expanded in proportion to the increasing volume of decisions relating to Indigenous Peoples and the law. We have endeavoured to address this issue by removing references to older and less germane cases in this edition.
We will continue our efforts to update and streamline future editions of the text and welcome your feedback and ideas on how we can improve the book for our readers.
Annotated Aboriginal Law 2022: The Constitution, Legislation, Treaties and Supreme Court of Canada Case Summaries can be purchased here from Thomson Reuters.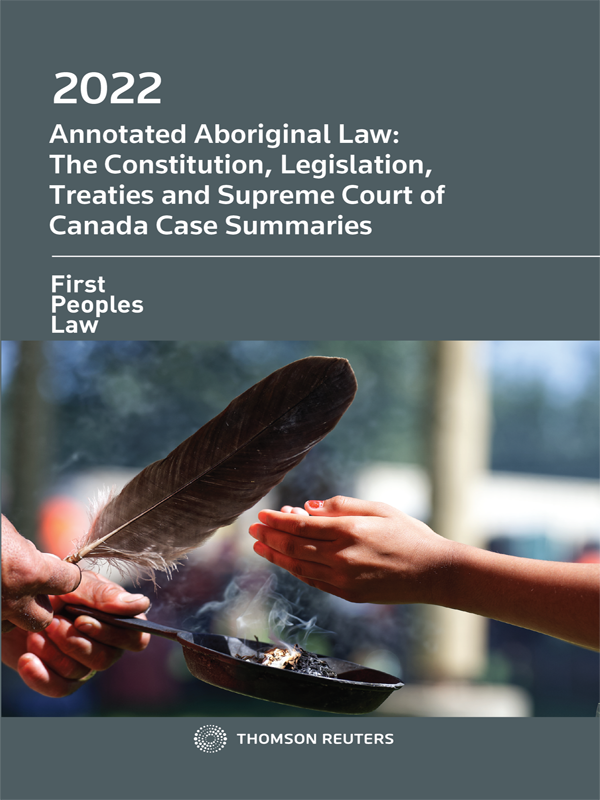 Photo credit: Winter Hawk Studios
Members of the Kaska Dena Nation take part in the ceremonial demolition of the former Residential School in Lower Post, BC. June 2021.
---
First Peoples Law LLP is a law firm dedicated to defending and advancing the rights of Indigenous Peoples. We work exclusively with Indigenous Peoples to defend their inherent and constitutionally protected title, rights and Treaty rights, uphold their Indigenous laws and governance and ensure economic prosperity for their current and future generations.
For more First Peoples Law analysis, visit our blog
Sign up for our First Peoples Law Report