Why are so many Canadians surprised when Indigenous people erect blockades to defend their lands and children's future?
I think it's because most Canadians prefer the facile narrative of national reconciliation to the uncomfortable reality of betrayal and unfulfilled promises.
Industry and Canadian politicians are adept at peddling the reconciliation narrative. Canadians want to believe it. It fits the image of 'Canada-the-good' they were taught in school. It justifies the continuing exploitation of Indigenous lands.
Occasionally Canadians are jarred out of their complacency. They are genuinely surprised to learn many Indigenous people are not satisfied with hugs and apologies, that instead of reconciliation and partnership, the present-day Indigenous reality is more often characterized by violence and denial.
As long as daily routines are disrupted, Canadians start asking why. Such 'teaching moments', while they last, provide an opportunity to raise awareness and engage in a national debate about the country's past, present and future.
Unfortunately, when it comes to Indigenous issues Canada has a short attention span. Events intervene, governments commit to negotiations, blockades are taken down, commuter trains resume service, interest wanes, people forget.
To combat forgetfulness, we've gathered together our essays on the controversy that erupted in the winter of 2020 when members of the Wet'suwet'en sought to reinforce their own laws in the face of Canadian aggression. Whether the memorandum of understanding eventually signed between the Wet'suwet'en Hereditary Chiefs and the provincial and federal governments results in recognition or disappointment will, in part, depend on the power of memory.
As Indigenous people know, real change doesn't happen in a flash. Oppression, racism and exploitation do not disappear with the signing of an agreement to negotiate. They persist and thrive on forgetfulness.
The Wet'suwet'en and their supporters across the country and around the world, both Indigenous and non-Indigenous, spoke out strong and clear through the winter and spring of 2020. Let their passion, commitment and fearlessness continue to remind and inspire all of us to insist on a better Canada.
Download our e-book for free here: Reconciliation on Trial: Wet'suwet'en, Aboriginal Title and the Rule of Law.
First Peoples Law Corporation is legal counsel for Unist'ot'en. The statements here are made on our own behalf and reflect our views on this issue, not those of our client.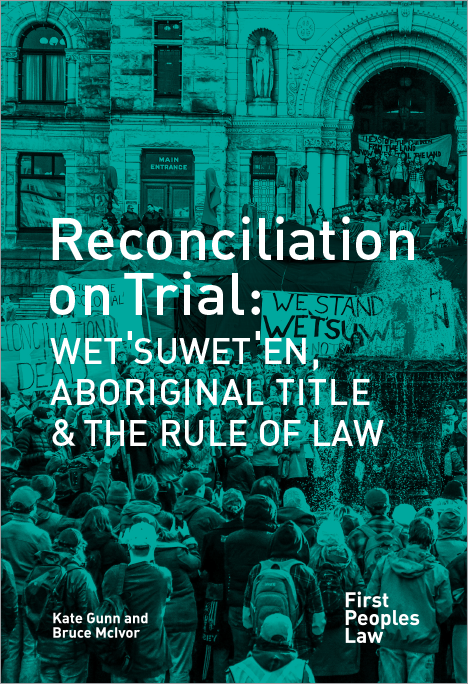 ---
Bruce McIvor, lawyer and historian, is principal of First Peoples Law Corporation. He is also an Adjunct Professor at the University of British Columbia's Allard School of Law where he teaches the constitutional law of Aboriginal and Treaty rights. Bruce is a proud Métis from the Red River in Manitoba. He holds a Ph.D. in Aboriginal and environmental history and is a Fulbright Scholar. A member of the bar in British Columbia and Ontario, Bruce is recognized nationally and internationally as a leading practitioner of Aboriginal law in Canada.
Follow Bruce on LinkedIn and Twitter
For more First Peoples Law analysis, visit our blog
Sign up for our Aboriginal Law Report