With so much media coverage of the Wet'suwet'en standoff prior to COVID-19, we thought it would be helpful to collect various articles, blog posts, interviews, case comments, and other resources in one location. We hope it will be a useful tool for anyone wanting to learn more about the situation in Wet'suwet'en territory and Indigenous Peoples' ongoing struggle for justice in Canada.
It is not a comprehensive list. We would welcome any feedback or recommendations. Check out our other reading lists here.
---
Check out our new e-book and podcast episode on our Wet'suwet'en essay series.
Here is a previous article of mine published last year following the RCMP raid at Gidimt'en.
Lawyers and legal scholars across the country have called on governments to uphold Indigenous rights and open a nation-to-nation dialogue with Wet'suwet'en Hereditary Chiefs.
Lawyers' Rights Watch Canada has published a legal brief on Canada's failure to abide by international legal obligations and its own rule of law.
My colleague Kate Gunn and I were interviewed by various media outlets about the legal context surrounding the standoff.
Here is an excellent "Wet'suwet'en Supporter Toolkit" with lots of great resources for anyone looking to show their solidarity.
Here is the most recent injunction decision issued by the BC Supreme Court, along with the Wet'suwet'en Hereditary Chiefs' response and some helpful analysis of injunction law more generally.
Here is some legal analysis of the relationship between Indigenous and Canadian law at the centre of the standoff.
Check out these pieces on the legal history of Aboriginal title and Wet'suwet'en law.
Here is a summary of new and ongoing litigation.
There is no shortage of insightful commentary on the "rule of law" invoked during this standoff.
Check out this film and podcast interviews on Wet'suwet'en law and Indigenous resistance.
Here are two publications on Wet'suwet'en law and governance.
Lastly, these are both powerful photo essays from the frontlines.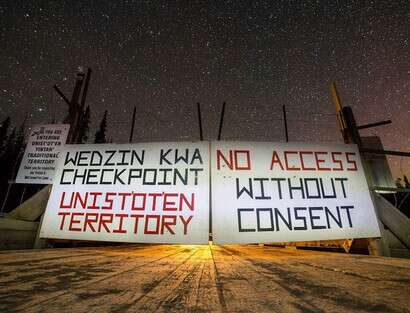 Photo by Jeff Nicholls [Tsimshian]
---
Bruce McIvor, lawyer and historian, is principal of First Peoples Law Corporation. He is also an Adjunct Professor at the University of British Columbia's Allard School of Law where he teaches the constitutional law of Aboriginal and Treaty rights. Bruce is a proud Métis from the Red River in Manitoba. He holds a Ph.D. in Aboriginal and environmental history and is a Fulbright Scholar. A member of the bar in British Columbia and Ontario, Bruce is recognized nationally and internationally as a leading practitioner of Aboriginal law in Canada.
Follow Bruce on LinkedIn and Twitter
For more First Peoples Law analysis, visit our blog
Sign up for our Aboriginal Law Report