What is the Doctrine of Discovery?
The Doctrine of Discovery is a legal principle that European countries extinguished Indigenous sovereignty and acquired the underlying title to Indigenous Peoples' lands upon 'discovering' them.
The Doctrine of Discovery is inspired by racist 15th century papal bulls dividing up "uncivilized" Indigenous lands for European powers. It became a legal principle through United States Supreme Court decisions of the 1820s and 1830s (the "Marshall Decisions"). It made its way into Canadian law in the 1880s through the St. Catherine's Milling decision.
While it has been repudiated around the world, the Supreme Court of Canada has grounded its interpretation of section 35 of the constitution on the dubious and racist legal principles that underlay the Doctrine of Discovery. The often-used phrase 'assertion of Crown sovereignty' is a Canadian euphemism for the Doctrine of Discovery.
The continued centrality of the Doctrine of Discovery to modern Canadian Aboriginal law is the source of many Indigenous people's rejection of the Canadian legal system and government policies on 'reconciliation'.
To learn more about the Doctrine of Discovery, check out my recent interview and podcast conversation with the Globe and Mail.
Have a question about Indigenous rights? Submit your questions here and Bruce will answer as many as possible in the monthly newsletter.
Sign up for our mailing list here to get future installments of "Indigenous Rights in One Minute" straight to your inbox.
Did you miss last month's post? Check out Bruce's answers to other questions here.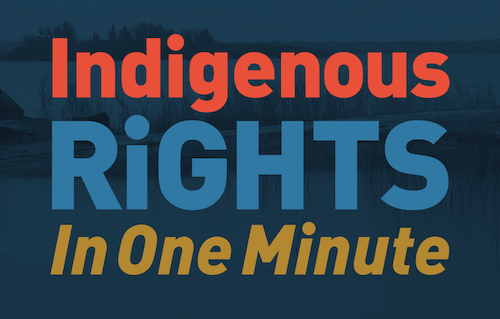 ---
Bruce McIvor, lawyer and historian, is partner at First Peoples Law LLP. He is also an Adjunct Professor at the University of British Columbia's Allard School of Law where he teaches the constitutional law of Aboriginal and Treaty rights. A member of the bar in British Columbia and Ontario, Bruce is recognized nationally and internationally as a leading practitioner of Aboriginal law in Canada. Bruce's ancestors took Métis scrip at Red River in Manitoba. He holds a law degree, a Ph.D. in Aboriginal and environmental history, is a Fulbright Scholar and author of Standoff: Why Reconciliation Fails Indigenous People and How to Fix It. He is a member of the Manitoba Métis Federation.
Follow Bruce on LinkedIn and Twitter
First Peoples Law is a law firm dedicated to defending and advancing the rights of Indigenous Peoples in Canada. We work closely with First Nations to defend their Aboriginal title, rights and Treaty rights, uphold their Indigenous laws and governance and ensure economic prosperity for their members.
Sign up for our First Peoples Law Report for your latest news on Indigenous rights