Why is the Calder Decision Important?
The Calder decision is important because it confirmed that Aboriginal rights are derived from Indigenous Peoples' occupation of their lands before colonizers arrived.
In the late 1960s, the Nisga'a asked the court to declare that their Aboriginal title to over 1,000 square miles of their territory in northwestern British Columbia continued to exist, despite over 100 years of colonization.
Three of members of the Supreme Court decided Nisga'a Aboriginal title no longer existed because it was incompatible with the Crown's obvious intent to exercise complete control over Nisga'a land.
Three judges concluded there was no evidence the Crown had clearly intended to do away with Nisga'a title, therefore it might still exist.
The seventh judge, supported by the first three, concluded that the Nisga'a's claim should be dismissed because the Nisga'a had not received permission from British Columbia to file it.
Because four of the seven judges were in favour of dismissing the claim based on the Crown not agreeing to it being filed, the Nisga'a technically lost. Nonetheless, Calder established that Aboriginal title, if it did exist, was based on Indigenous Peoples' pre-existing right to the land and not on the Crown's favour or generosity.
The most quoted words from the decision were written by one of the judges who rejected the Nisga'a's claim: "the fact is that when the settlers came, the Indians were there, organized in societies and occupying the land as their forefathers had done for centuries."
In response to the decision, Prime Minister Trudeau Sr. is reported to have said "Maybe you have more rights than we thought." In the wake of Calder, the federal government changed its policy regarding Aboriginal title and rights to allow for the negotiation of "land claims" with Indigenous Peoples.
Have a question about Indigenous rights? Submit your questions here and Bruce will answer as many as possible in the monthly newsletter.
Sign up for our mailing list here to get future installments of "Indigenous Rights in One Minute" straight to your inbox.
Did you miss last month's post? Check out Bruce's answers to other questions here.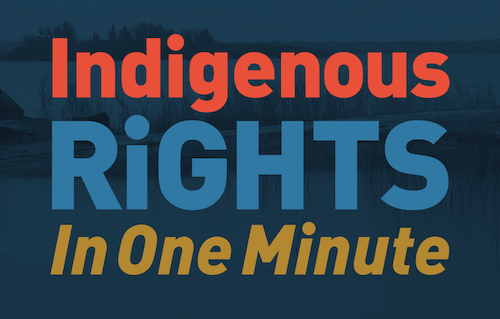 ---
Bruce McIvor, lawyer and historian, is partner at First Peoples Law LLP. He is also an Adjunct Professor at the University of British Columbia's Allard School of Law where he teaches the constitutional law of Aboriginal and Treaty rights. A member of the bar in British Columbia and Ontario, Bruce is recognized nationally and internationally as a leading practitioner of Aboriginal law in Canada. Bruce's ancestors took Métis scrip at Red River in Manitoba. He holds a law degree, a Ph.D. in Aboriginal and environmental history, is a Fulbright Scholar and author of Standoff: Why Reconciliation Fails Indigenous People and How to Fix It. He is a member of the Manitoba Métis Federation.
Follow Bruce on LinkedIn and Twitter
First Peoples Law is a law firm dedicated to defending and advancing the rights of Indigenous Peoples in Canada. We work closely with First Nations to defend their Aboriginal title, rights and Treaty rights, uphold their Indigenous laws and governance and ensure economic prosperity for their members.
Sign up for our First Peoples Law Report for your latest news on Indigenous rights