We are excited to announce the release of First Peoples Law's 2023 edition of Indigenous Peoples and the Law in Canada: Cases and Commentary, now available here (previously, Annotated Aboriginal Law).
The book provides Indigenous Peoples and the legal community with a comprehensive overview of cases, legislation and other important developments in the field of Aboriginal law. We hope it serves as a useful resource in understanding, defending and advancing Indigenous rights across the country.
We are grateful to Indigenous Peoples across the country whose longstanding efforts to protect their lands, uphold their laws and defend their rights underlie the cases in the book. We also remain grateful to Shin Imai, whose foundational work over 20 years made the book what it is today.
Changes and Updates

First Peoples Law is committed to public legal education and advocacy on issues related to Indigenous Peoples and the law.
Each year we seek to ensure this book is relevant and accessible to a wide range of audiences. We continue to update and streamline the text by re-organizing select sections, removing references to older and less relevant cases, and consolidating reproduced legislation. The book's updated title reflects both these changes and the evolving legal and political landscape in Canada.
We welcome your feedback and ideas on how we can improve the book for our readers.
Acknowledgments

The Indigenous Peoples and the Law in Canada text is a team effort.
We extend our thanks to Bruce McIvor and Nico McKay at First Peoples Law for their contributions to this year's edition, and to Danielle Blanchard for her valuable assistance in researching and preparing case summaries. We are also pleased to include an essay by the Honourable Harry S. LaForme on Indigenous Peoples and the criminal justice system in this year's Commentary section.
Indigenous Peoples and the Law in Canada 2023 can be purchased here from Thomson Reuters.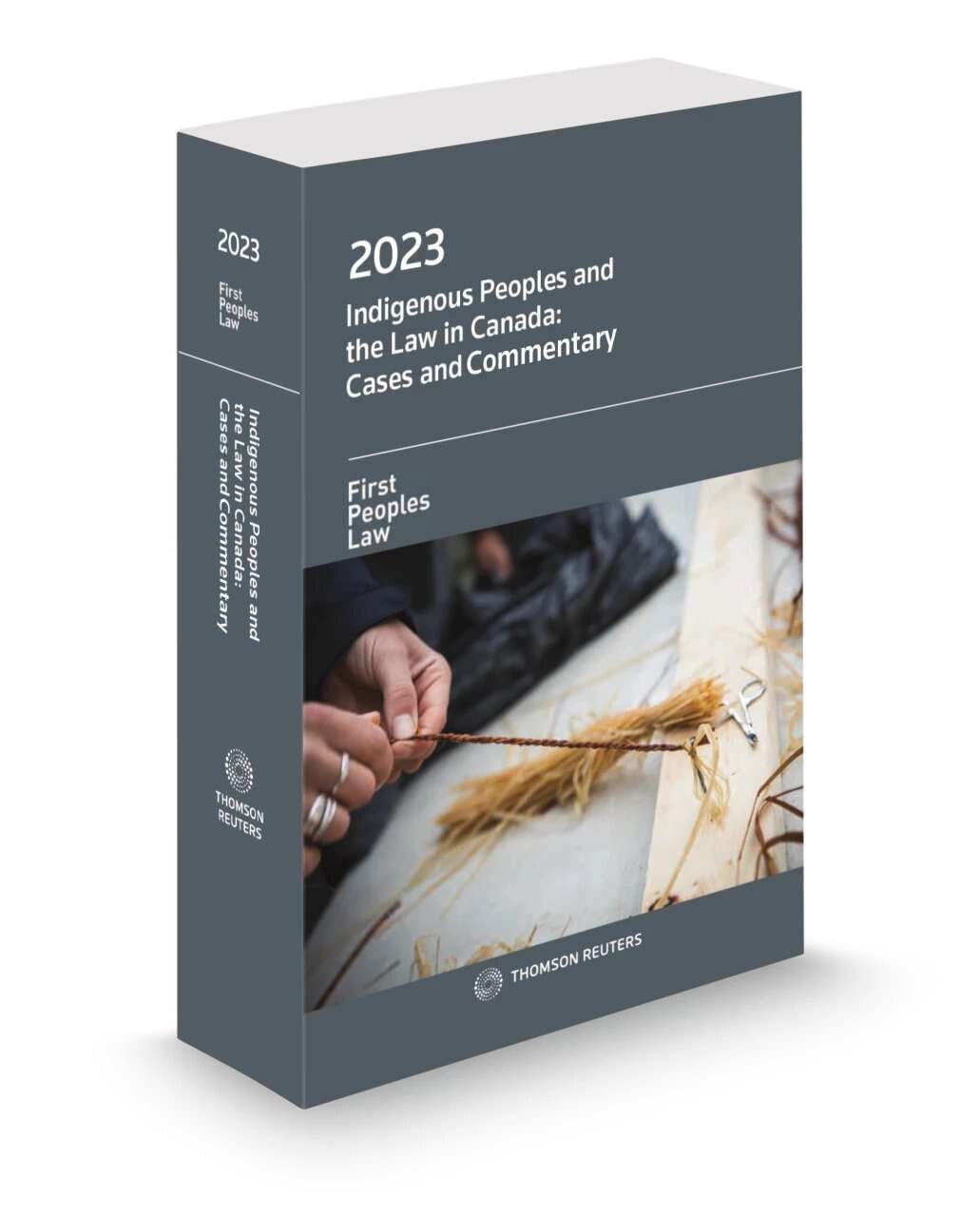 Cover photo credit: Melody Charlie, "Cedar Weaving Lessons at Reconciliation Event in Nuu-chah-nulth Territory."
---
First Peoples Law LLP is a law firm dedicated to defending and advancing the rights of Indigenous Peoples. We work exclusively with Indigenous Peoples to defend their inherent and constitutionally protected title, rights and Treaty rights, uphold their Indigenous laws and governance and ensure economic prosperity for their current and future generations.
Kate Gunn is partner at First Peoples Law LLP. Kate completed her Master's of Law at the University of British Columbia. Her most recent academic essay, "Agreeing to Share: Treaty 3, History & the Courts," was published in the UBC Law Review.
Connect with Kate on LinkedIn and Twitter
Geneva Lloyd is the Director of Operations at First Peoples Law LLP.
Connect with Geneva on LinkedIn
Cody O'Neil is an articled student at First Peoples Law LLP.
For more First Peoples Law analysis, visit our blog
Sign up for our First Peoples Law Report